DIY
-
Halter Chain Maxi Dress -
View C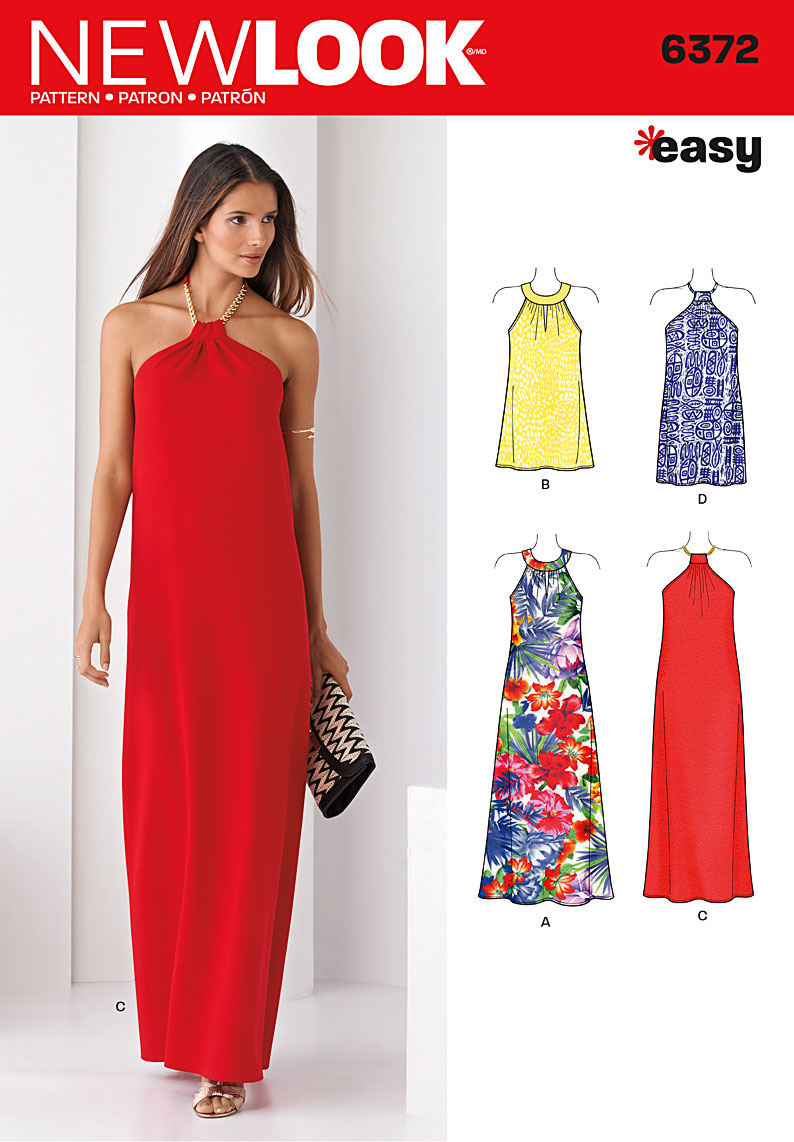 When I first saw this pattern I knew I NEEDED to make it! It was simple enough and just what I needed to satisfy my sewing itch!
When I went to the
Quilting and Sewing Expo
this past April in Massachusetts, I decided to snoop around other local and not so local (bit more of a drive) fabric shops. One store in particular I fell in love with is
Sewfisticated Discount Fabric Store
in Framingham, MA. The fabric in here is of good qaulity and costs anywhere from $2.99 to $6.99 a yard. This is where I got this beautiful polyester fabric. I took what was left on the bolt. Maybe about 6 yards or so. I knew I was going to make more than one of something, just didn't know what.
Sooo....3 months later I figured out what I was going to make with it. I honestly love when patterns are only 5-6 pattern pieces or less. It makes me happier to get to the sewing faster than to be cutting for hours. Have you ever noticed when you are working on a pattern that requires you to cut out about 15-20 pieces of just the paper you don't want to cut the fabric and you are done for the day. Then when you finish cutting the fabric you don't want to start sewing because you are tired from all the cutting, so that puts it off another day? Lol...story of my life!!
#1
#2
If I could put the two above pictures together I would. I was having such a hard time trying to figure out how I was going to make 2 tubes out of these little slim pieces of fabric. I will be honest I almost quit a few times. It was so aggravating and I was starting to sweat. No lie!! I came across a Youtube Tutorial on how to turn a small tube inside out. In picture #1 you can see the end of the tube is sewed shut with not much of an end. The tutorial said to take my tool of choice, put it at the end of the tube and scrunch it down on itself. In pic #2 you can see that I am working my way scrunching on itself and its turning right side out. I will admit in the beginning I did have a hard time doing this to start because it is such a slippery fabric, but eventually I got the hang of it.
I purchased this
Blue Moon 18" Gold Oval Link Chain
from Joann Fabrics. I didn't need that long of a chain, but out of the selection, I loved this one the most. I took about 5 links out of it to make it the length that I wanted.
Sewing the ends of the tube to the link chain was a piece of cake!
I put my label and size of the dress inside the back of the dress. Here is where I made it look professional!! I went to Hobby Lobby one day and bought
clear elastic
from their Sewology line. I sewed the pieces of elastic to the to the side seams of the dress so when you put it on a hanger it has extra support instead of just hanging awkwardly from a chain. I think that was pretty creative of myself. I also added my tag on the side.
I wore it to my daughter's fifth grade graduation as you can see above and it was a hit. I think people love how big the flowers were and that is was just so unique.
Did the dress come out the way I envisioned it? Yes!!
Would I make it again? Yes, but I think next time I will try a different neckline on the pattern.
I did make 2 more in 2 different sizes for other people and it seemed to work out pretty well for them as well. Thanks for checking this out!!
Until Next Time
Stephanie
Silverlinings Originals